Game-based training is a fantastic motivator for employee learning. When incorporated into training, games improve learners' self-confidence by 20 percent, increase knowledge retention by 90 percent, and boost the number of completed tasks by a whopping 300 percent.1
To get these results and see a rise in employee engagement with learning, gamify your company's retail training program. Implement gamification by following a few simple suggestions.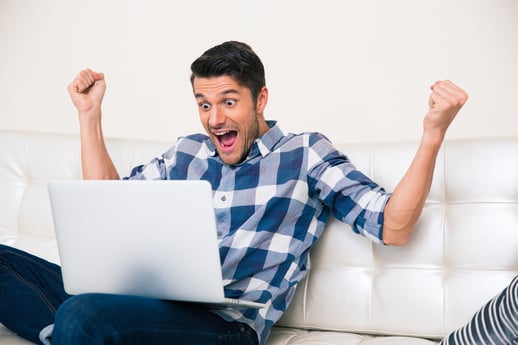 3 Tips for Adding Elements of Gamification to Online Retail Training
Here are a few ways to make retail training programs more effective with gamification:
1. Gamify quizzes to drive knowledge retention
Training designers and administrators use quizzes to reinforce the information that they present to learners. Interactive quizzes are especially good at driving knowledge retention.2 Games can increase knowledge retention by 17 percent.3
A couple of ways to gamify a retail training quiz is to include points and leaderboards. "Think back to the times you played an arcade game as a kid – one of the first things you noticed were the high scores. It was great seeing where you measured-up and it acted as continual motivation. The same can be done with online quizzes," stated the blog article Easily Add Gamification to Your Quizzes.4
After you've gamified retail training quizzes, be sure to pay attention to how well learners are retaining knowledge. You may see a significant improvement in this area.
2. Improve learner engagement by converting retail courses into an online board game
For some employees, training can be stressful due to dry, disengaging content. To boost learner engagement with retail training, turn one of your company's eLearning courses into a digital board game. A contributor to eLearning Industry gave an example of how to make a compliance course "highly engaging" by doing just that:
"...the learner needs to pick a character, whose role they play, completing challenges as they progress through the game. The level of difficulty of these challenges is determined by a 'roll the dice' interaction. As they go about completing these challenges, the learner collects points or faces penalties, based on the way they handle the situations."5
Which retail training courses has been the least engaging for learners in the past? Let them be the first courses you gamify.
3. Make retail training more collaborative by integrating live games into learning experiences
One of the quickest ways to boost the overall quality of retail training is by making courses more collaborative, which you can accomplish with gamification. When brainstorming gamification strategies, remember that gamification is not limited to the digital environment. Consider including in-person games into live training sessions. Best of all, live games are often free, or the materials needed to implement them are low-cost.

To incorporate live games into retail training, divide new hires into two teams at the end of an in-person training session. Verbally quiz the teams on the material you've just discussed, and keep track of which team answers the most questions correctly. Reward the winning team with a free lunch or a more flexible work schedule the following week.
When It Comes to Gamification, Be as Creative as You Like
Gamified learning is not just fun for employees, but also for L&D professionals who are in charge of creating retail training content and assembling employee learning paths. When gamifying training, let your imagination run wild.

A contributor to Forbes said that, "(a) pharmaceutical company launched a role-playing video game that took place in a James Bond-like atmosphere in which players chose and personalized characters, got behind the wheel of a sleek, high-tech vehicle, received sales directions from headquarters, and focused on overcoming healthcare professional objections."6 What creative ideas for gamifying retail training can you dream up?
Want to discover some additional hacks for improving retail training? Please explore our blog post, "3 LMS Hacks that Improve Retail Training."
---
References:
https://www.game-learn.com/why-are-learning-games-for-adults-more-effective-than-traditional-learning/
https://surveyanyplace.com/knowledge-retention-quizzes/
https://www.forbes.com/sites/forbesagencycouncil/2017/03/29/five-strategies-for-turning-your-employee-training-into-a-game/#6f30c0bc46a6
https://www.learndash.com/easily-add-gamification-to-your-quizzes/
https://elearningindustry.com/gamification-in-the-workplace-reshaping-corporate-training-5-killer-examples
https://elearningindustry.com/gamification-in-the-workplace-reshaping-corporate-training-5-killer-examples