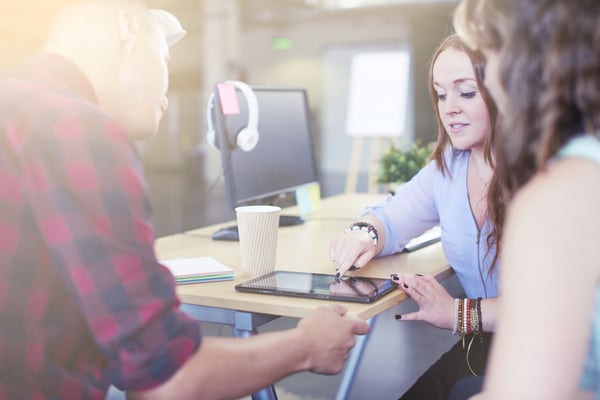 Investing in employee training is more critical now than ever before. "Employees are your company's most important assets," wrote a contributor to Recruiter.com.¹ "Their training and professional development is something you should invest heavily in." The contributor said that investing in employee training benefits companies in many ways, such as by decreasing staff turnover. Other benefits of investing in your employees' education include improved self-esteem, increased employee productivity, staying up-to-date with technological advancements, and greater business revenue.
How Prioritizing Employee Training Benefits Your Company
Are you considering allocating more of your company's budget to employee training? Here are some reasons why you should make this a top priority:
1. Training promotes increased employee self-esteem
Low self-esteem in the workplace can be a major problem for both workers and employers. "At work, people who suffer with this problem often engage in subconscious behaviors that undermine their success, making them less likely to ask for or get promotions, raises and even jobs," stated NBC News.² This indicates that low self-esteem in employees hinders performance, which can harm companies. Investing in employee education can build workers' self-esteem by providing them with the skills they need to confidently perform their job tasks. Also, it sends them the message that your company believes in and values them, which can further improve their self-esteem.
2. Employee training boosts productivity
Another reason why you should invest more in staff training is that it improves employee productivity. Increased training helps to make employees more efficient, knowledgeable, and confident while helping to prevent small mistakes. Companies with high levels of employee productivity often make more income and have a better company culture than organizations with low productivity.
3. Employee training keeps companies ahead of the technological curve
The average company is running to keep up with digital transformation. Some businesses are successfully staying on top of it, and others aren't. "No matter the business sector, conceptual and technical advancements abound in our modern world," stated FindCourses.com.³ "Now more than ever it is absolutely crucial that businesses and professionals alike ensure that their work reflects current best practice." Companies can stay ahead of the technological curve by providing technical and non-technical staff with critical tech skills that encourage technological fluency.
4. Employee training increases business revenue
One of the most popular reasons organizations invest in employee training is because it can improve revenue for companies. Although employee training is a monetary investment, it can pay off and help companies make more money than they would have without having made the training investment. For example, The Aspen Institute reported that, "Companies that invest in their workers can gain a return well in excess of 100 percent."⁴
Looking for the Right Learning Technology to Invest In? Try an LMS
Investing in your employees' education might sound like a great idea in theory, but how can your company make it happen? One way is to implement a corporate learning technology that facilitates employee training, such as a learning management system (LMS). An LMS can deliver, track, and report on employee training. Modern learning management systems feature mobile learning, social learning tools, LMS integrations, language localization, eCommerce, and more, and can meet the training needs of just about any workforce.
An investment in a learning management system or another type of learning technology is an investment in your employees' education and the health of your organization. Learn more about the benefits of an LMS or contact us for a personalized LMS demo of the TOPYX platform.
---
References:
1. https://www.recruiter.com/i/why-its-critical-to-invest-in-employee-training-and-development/
2. https://www.nbcnews.com/better/business/why-low-self-esteem-may-be-hurting-your-career-ncna814156
3. https://www.findcourses.com/prof-dev/l-d-articles/reasons-to-spend-more-money-on-training-employees-11301
4. https://www.aspeninstitute.org/of-interest/why-you-should-be-investing-in-your-employees-education/