Sales and marketing misalignment costs businesses $1 trillion per year globally.¹ That's not surprising, considering many marketing and sales teams have different ideas about what they should achieve. Marketing typically focuses on leads and MQLs, while sales cares more about opportunities and closing deals. Often the qualifications for each goal or lead stage aren't clearly defined and agreed on by both teams, so while sales and marketing work toward the same overarching goal (growing company revenue), nuances between them can cause major problems.
In the past, enterprises may have been able to succeed despite those differences. Today, however, marketing is hyper-focused on educating prospects through content, while sales teams are connecting with buyers later and later in the sales cycle. That shift, along with an ever-increasing number of product and service options, puts the buyer in control and makes it crucial for marketing and sales teams to work toward the same goals.

According to Salesforce, "The new reality is that sales and marketing are continuously and increasingly integrated. Marketing needs to know more about sales, sales needs to know more about marketing, and we all need to know more about our customers."²

When companies experience tension between their sales and marketing teams, they will generally have slower growth rates and generate less income.³ Businesses can use many tactics to help align sales and marketing departments, one of the most effective of which is offering staff from both teams customized training created and delivered with a learning management system.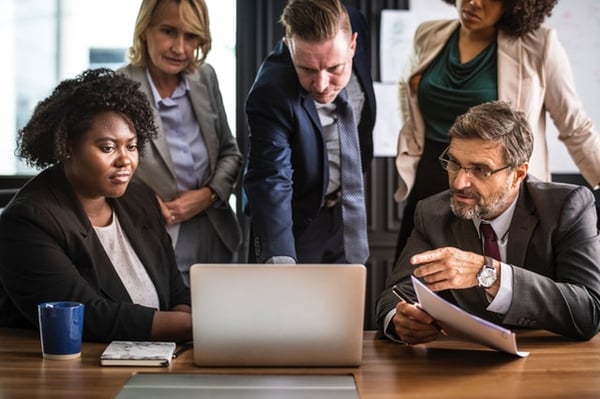 How LMS Training Puts Sales and Marketing On the Same Page
Creating strategies that effectively align sales and marketing teams delivers major benefits for businesses. "When marketing and sales teams are aligned to the same goals, communication opens, the number of quality leads increases and ultimately revenue goes up," stated 10 Tips for Marketing and Sales Alignment.4

To get sales and marketing staff in sync with one another, companies can use an LMS to provide sales training to marketers and marketing training to salespeople.

By cross-training teams, you ensure each team understands the other's goals. Consider the effect that providing marketing training to sales team members had on organizations in a Sales and Marketing Alignment Study from Marketo.5 The study reported the following:
One to three days of marketing training offered annually resulted in 21 percent of MQLs (marketing qualified leads) successfully closing.
Eight to ten days of marketing training offered annually resulted in 35 percent of MQLs closing.
Ten or more days of marketing training offered annually resulted in a 60 percent closure rate of sales-qualified leads.
Cross-training helps each team understand the tactics that the other uses. It can be helpful for teams to meet after training. The purpose of the post-training meeting would be to discuss common vocabulary, goals, and definitions. For example, sales and marketing should agree on what an MQL is and the characteristics a prospect needs to become an MQL. That way, marketing can effectively nurture leads to become MQLs and sales can feel confident accepting those MQLs.
What Sales and Marketing Training Should Include In an LMS
Both marketing and sales teams should go through LMS training for their partner department. For instance, a new marketing team member should go through the onboarding course for the company, the marketing department, and the sales department, and vice versa for a new sales professional.

By including employees from different teams, enterprises cross-train sales and marketing staff, giving them a better understanding of how their partner team works. For example, marketing training for the sales team could educate sales professionals on:
Common marketing tactics
How to create a nurture campaign
Tracking lead progression marketing content performance
Sales training for marketers could consist of:
Top performing value-driven language used in sales conversations
The questions sales staff ask potential customers to uncover their problems, pain points, and goals
How to position solutions to solve each prospect's unique problem to close a sale
When each team understands the tactics and language the other is using, they can find the best combination of both, aligning their efforts and creating a more unified customer journey that converts better.
Improve Understanding Between Sales and Marketing with an eLearning System
Training created with an LMS can get sales and marketing teams on the same page concerning goals and improve understanding between departments. This can help companies achieve up to a 20 percent annual growth rate as opposed to the four percent decline in revenue that organizations with poor sales and marketing alignment often experience.6
Is LMS training a vital part of your company's sales and marketing alignment strategy?
---
References:

1, 4. The B2B Lead. 10 tips for marketing and sales alignment. https://www.kantakji.com/media/165371/b2blead-marketing-sales-alignment-ebook.pdf.

2. Topo Blog. Sales and marketing alignment: best practices for building a revenue machine. https://blog.topohq.com/sales-and-marketing-alignment-best-practices-for-building-a-revenue-machine/.

3. Salesforce. The why and what of sales and marketing alignment. https://www.salesforce.com/quotable/articles/sales-marketing-alignment/.

5. eLearning: Building smarter companies. Learning is key to creating sales and marketing alignment. https://www.2elearning.com/news/ideas/item/55865-learning-is-key-to-creating-sales-and-marketing-alignment.

6. Integrate. 5 actions to drive sales and marketing alignment and business performance. https://www.integrate.com/blog/sales-marketing-alignment-business-performance.