Interactyx, the developer of the award-winning social learning management system (LMS) software TOPYX®, was honored to participate in the state of Florida's Information Technology Task Force which is focused on IT related issues concerning economic development, technology job growth and enhancing the environment to attract more IT businesses. The output is a dispatch of recommendations directly to Florida Governor Rick Scott.

"We feel the opportunity to grow a robust technology sector in Florida as quite compelling" stated Alfred R. Novas, Chief Executive Officer of Interactyx and Florida IT Task Force member. "The Task Force members' provided recommendations that will ensure an outstanding pipeline of IT talent for Florida and commits to cultivating Florida's world-class reputation for IT job growth and company success across tech and IT."
"As a fast growing technology company in Southwest Florida, it is critical to have a vibrant environment and supportive ecosystem necessary to foster and nurture this vital segment of the economy. Interactyx is a small, yet global software development company and proud to call Bonita Springs, Florida home to its corporate headquarters," commented Novas.
A copy of the Florida IT Task Force Dispatch, The Call to Cultivate the Best IT Ecosystem for Florida can be downloaded by clicking :FLORIDA IT DISPATCH
The Florida ITTaskForceis the fifth in a three-year legacy of Target Industry ClusterTask Forcesconvened in the state of Florida with enabling funding support through Workforce Florida, Inc.
Interactyx is joined by organizations, listed below, that share the same vision for the state of Florida as part of the IT Task Force: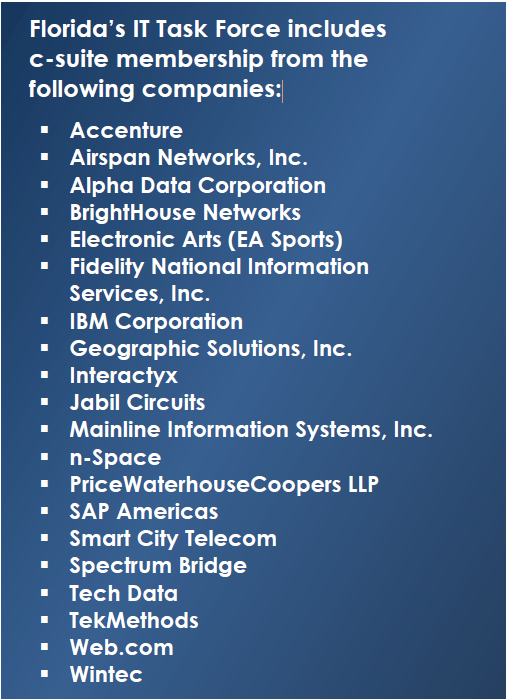 Florida is ranked a top state for innovation by Fast Company and second for overall business climate by CEO Magazine. Challenges facing the IT Task Force include supporting initiatives that continue to improve Florida as a leading destination for innovative companies and to fill over 50,000 STEM jobs currently vacant in Florida, which was reported by the Florida Chamber Foundation in October 2013.
The Task Force is working directly with Governor Rick Scott to make IT related issues a priority for the state and define relevant, measurable metrics to measure the effects of the recommended efforts.
Interactyx is proud to be part of this team to help bring new economic development to Florida.
Keep up-to-date with the activities regarding the IT Task Force at:http://www.floridaittalent.org/
About Interactyx:
Interactyx is a global eLearning software company providing engaging and interactive learning experiences to learners, businesses, associations and nonprofit organizations of any size.
Since 1995, Interactyx has worked with educational programs to develop engaging learning management solutions. Interactyx, the developer of TOPYX, is at the forefront of developing eLearning and social learning management system (LMS) solutions that engage learners and enhance collaborative learning environments. TOPYX has gained acceptance as an innovative, affordable solution to deliver a complete eLearning software solution meeting the needs of today's learner that is the best value in social learning software.
Interactyx contact:
Jeffrey A. Roth
Vice President, Marketing and Communications
+1.888.575.2266 x201or+44.20.7084.6244 x201>
jeffrey.roth@topyx.com
Interactyx
3461 Bonita Bay Boulevard
Suite 207
Bonita Springs, FL 34134
USA