To claim that online learning, or eLearning, is popular in the workplace is an understatement. In the U.S. alone, over 75 percent of companies offer online training.¹ About half of Fortune 500 companies already use eLearning,² and it's estimated that 98 percent of all companies will use some type of eLearning by 2020.³
Why are so many companies jumping on the eLearning bandwagon? Because it's effective and convenient. Online learning lets you deliver training to employees regardless of their location, in a variety of formats to improve knowledge retention. You just need to find a way to deliver eLearning materials to your staff.
Fortunately, there are a variety of ways to deliver online learning, including using LMS software. LMS software is one of the most popular ways to deliver eLearning, and the corporate LMS market is currently valued at over $2 billion USD.4
Related Reading: Why Online Learning is the Best Type of Learning for Employees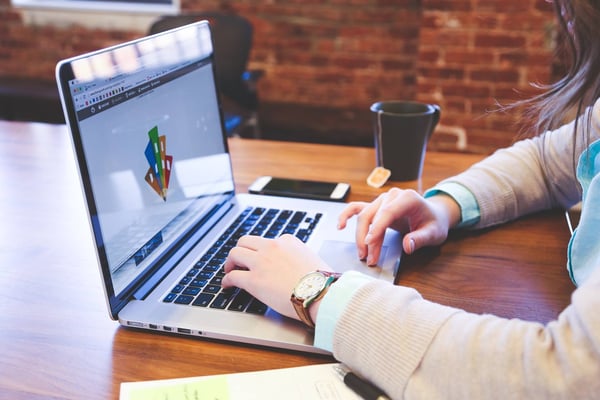 4 Reasons Your Company Should Implement eLearning with LMS Software
The benefits of online learning through an LMS go beyond merely providing effective employee training. Here are four distinct reasons why companies should implement online learning with LMS software:
It manages the employee learning process -- A learning management system (LMS) is designed to distribute, track and provide detailed reports about online learning, enabling administrators to tweak training to meet the needs of any workforce. Delivering results-driven employee training that can be measured is the primary and most obvious reason why company leaders invest in LMS software.5
Organizational leaders deliver eLearning with an LMS because it manages the entire learning process seamlessly. This is a viable reason why companies should invest in an LMS, but it's not the only one.
It fosters ownership of training -- It's human nature to pay close attention to what you value and ignore what you don't. LMS software increases employee engagement with training by encouraging workers to take ownership of their learning experiences and place a higher value on them.
One reason LMS software helps learners take ownership of training is that it is interactive. It gives employees opportunities to chat with peers in real time, share and comment on content, take quizzes and interact with games and simulations. All of these activities cause learners to become more present during training and require full participation before advancement to the next eLearning segment.
It improves technology literacy -- Technology literacy is becoming increasingly important in the workplace. It is crucial because it "helps one to communicate, solve problems, and enhance lifelong learning skills for future progress," according to IGI Global.6
Online learning promotes technology literacy because it requires staff to adapt to new technology. When employees routinely interact with LMS software to access mandatory training, they will naturally become more technology literate.
It prevents waste of training content -- Training content can be costly. LMS software gives companies more for their money when it comes to training by helping them reuse eLearning content.
Training content delivered with LMS software is malleable. Not only can you reuse the material as it is, but you can adapt it for different learners and audiences, correct mistakes in content, add new material, or delete outdated content and create many variations of a course. This malleability prevents waste of valuable content increases an organization's ROI for training.
Does Your Company Offer Online Training?
If your company has yet to take advantage of eLearning, it is missing out on a plethora of benefits that go beyond ensuring quality employee training. Improved ownership of training by employees, increased technology literacy and effective reuse of eLearning content are all natural byproducts of implementing online learning with LMS software.
---
References:
Imod Education. The popularity of online courses and e-learning in 2016 based on trends and statistics. https://www.imodeducation.com/popularity-online-courses-e-learning-2016-based-trends-statistics/.

Sky Prep. Fortune 500 companies use e-learning. Why aren't you? https://skyprep.com/2014/12/16/nearly-half-fortune-500-companies-use-e-learning-why-not-you/.

Small Business Trends. 98 percent of all companies plan to use eLearning by 2020. https://smallbiztrends.com/2017/12/2018-e-learning-trends.html.

Cision PR Newswire. Global corporate learning management system market 2018-2023 by component, delivery mode, organization size, deployment type, vertical & region. https://www.prnewswire.com/news-releases/global-corporate-learning-management-system-market-2018-2023-by-component-delivery-mode-organization-size-deployment-type-vertical--region-300645686.html.

Finances Online. Who uses LMSs and why? https://learning-management.financesonline.com/who-uses-lms-and-why/.

IGI Global. What is technology literacy? https://www.igi-global.com/dictionary/teacher-preparation-programs-and-learner-centered-technology-integrated-instruction/29528.