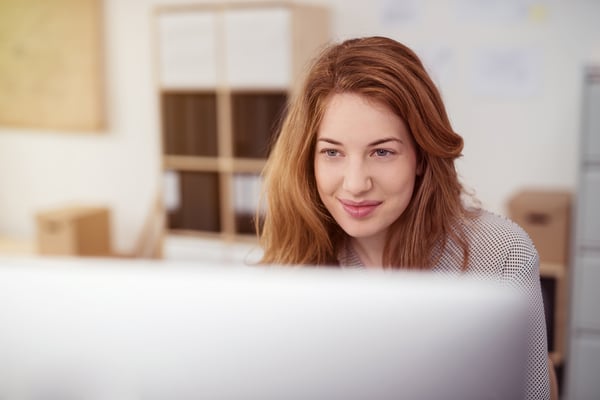 Online employee training is a wonderful thing. It benefits companies as well as employees by boosting learning retention, increasing productivity, and providing businesses with a competitive edge, according to TrainingIndustry.com1. Additionally, some workers prefer eLearning to traditional employee training that takes place in person. However, eLearning can be devoid of human connection since it takes place online, which can cause some employees to disengage, lose interest, or perform poorly. By implementing a few tips, you can ensure your learners get the human connection they need as they participate in online training.
4 Tips for Adding a Human Touch to Online Training and Improving Learner Engagement
Ready to give your company's eLearning LMS a human touch that makes it more personal and engaging? Here are a few ideas to help you do just that:
1. Include video learning that features a live instructor
One of the best ways to give learners a sense of human connection to online training is to upload videos that feature a live instructor to online courses. This can be done quickly and inexpensively. Keep in mind that the videos don't have to be very long. Even a 3-to-5 minute video gives instructors enough time to explain a complex idea or flesh out a topic presented in the course. Another way to get instructors talking to learners through video is to have employees submit questions about the eLearning course via forum, Facebook group, or email. The instructor can answer the most-frequently-asked questions through videos added to the course.
2. Conduct some online training in real-time, with a real instructor
A large percentage of eLearning material is pre-recorded. This can be excellent for learners as it makes training available on-demand, providing unparalleled flexibility for participating in the training. But by conducting some online training in real-time and having a live instructor lead it, you can help learners feel more human connection during training. At the end of each real-time training session, instructors may want to address any pressing questions learners have, providing answers right at the point of need. Note that even real-time training can take place fully online via web-based seminar technology.
3. Hold weekly in-person mini-meetings for learners
Sometimes the most effective way to add a human touch to eLearning is to have online training course participants meet up with one another. To determine whether or not this would benefit your learners, have a trial run of holding weekly mini-meetings where employees can debrief about online training, ask questions, and network with other learners. Commit to doing this for one month, and be sure to provide learner assessments before and after the 4 weeks. In the assessments, ask targeted questions that will give you insight into whether or not learners want more human connection in their eLearning and if they feel that the meetings are helpful or not. This may only be successful with smaller groups of learners.
4. Add character simulations to online courses
It's not always necessary to have a live instructor make an appearance on an eLearning course. A character simulation may also do the trick. The more developed the character's personality and facial features are, the more effectively it will engage learners' emotions. To humanize the character, give it a name and create realistic stories about it. The stories should evoke the interest of participants and help them engage on a deeper level with both the character and the training.
Emotional Connection in Employee Training Promotes Knowledge Retention
When designing eLearning, it can be easy to overlook a learner's need for an emotional connection to the online employee training content, their instructors, and their peers. By including videos featuring a live instructor in online training courses, having live instructors conduct some online training in real-time, assembling learners for occasional in-person debriefing meetings, and adding realistic character simulations to courses, you can add a human touch to your eLearning program and increase learner engagement. Additionally, this will promote knowledge retention as, "Emotional links make memories more vivid, which is great in principle for remembering what you've learned," according to eLearning Industry2.
Interested in finding some tips to further increase employee engagement? Read our blog post, "How to Use Mobile Learning to Drive Employee Engagement" or contact TOPYX to request a personalized LMS demo.
---
References:
1. https://trainingindustry.com/articles/e-learning/5-advantages-of-e-learning/
2. https://elearningindustry.com/surprising-ways-create-emotional-connection-online-learners