Instructor-led classes account for 78 percent of training that companies offer.¹ This can be very limiting for small L&D teams, as instructor-led classes aren't scalable for larger learner bases. Imagine educating hundreds or thousands of learners on an ongoing basis with nothing but classroom training.

To solve the problem and scale training, many companies with small L&D departments are turning to blended learning, a combination of traditional classroom courses and online training, often offered via LMS. Online and blended learning extends the reach of training, allowing huge numbers of learners to be trained by just a few administrators.

Transitioning to online learning or even blended learning is essential for companies with limited human capital and large learner bases, but knowing which LMS to choose can be a challenge. That's where expert consultation and products step in. TOPYX helps small companies with small teams implement an LMS, launch online training courses, and reach large numbers of learners.

We've successfully helped dozens of teams, but one of the most successful examples is the Minnesota Highway Safety & Research Center (MHSRC). With the TOPYX LMS, MHSRC reached thousands of developing drivers for training with just nine employees.
How the Minnesota Highway Safety & Research Center Leveraged Online Training to Reach More Learners and Save More Lives
MHSRC provides training that promotes highway safety by teaching drivers best practices for operating vehicles via real-life scenarios offered in a controlled environment. In the past, the MHSRC solely offered in-person training. While the training was successful their staff often received inquiries about eLearning. Questions like: "Can I take this online?" were common.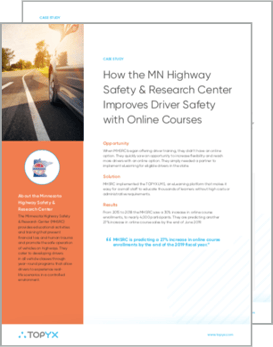 MHSRC saw an opportunity in those questions. By providing flexible online options, they could meet needs of more people. MHSRC decided to make training available online by partnering with TOPYX LMS.

The results were outstanding. From 2015 to 2018 the MHSRC saw a 30 percent increase in online course enrollments - the equivalent of gaining nearly 4,000 participants. The organization is predicting an additional 27 percent increase in online course sales by the end of this month.

Those are dramatic results in just a few years, and ones with a major impact. By reaching more drivers, MHSRC can improve road safety, saving more lives. To make that possible, they chose a learning management system (LMS) with several few key characteristics.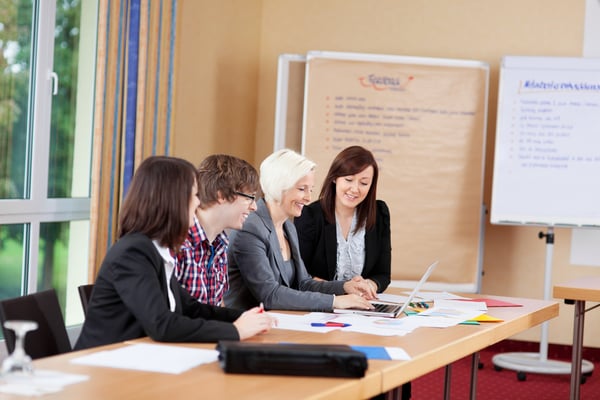 3 LMS Characteristics that Help Small Teams Train Large Learner Bases
Like the MHSRC, your organization - whether you're a business, association, or nonprofit - can reach more learners by using an LMS. The key is to find an eLearning system with the characteristics that help small L&D teams train large learner bases.

If your resources are limited yet you want to meet the needs of many learners, look for an LMS that is:

1. Cost effective -- An LMS with a pricing structure designed to accommodate large learner bases can lower your overall training costs. For example, Cisco cut its training costs by up to 60 percent when it transitioned to eLearning.² However, investing in a per-seat-fee LMS can cause unexpected or untenable jumps in pricing. To keep costs low, implement a flat-rate learning management system.

2. User-friendly -- A poor UX for LMS administrators can make it harder for learners to access and retain training content. For learners, a bad LMS user experience deters participation in online courses. Look for an eLearning system that is user-friendly for both corporate leaders as well as learners, featuring a simple UI and a single sign-on login procedure.

3. Supportive of clients -- Client support is vital to the success of small teams that need to reach masses of learners. Shelly Kerzman, an administrator at MHSRC, said, "TOPYX works with us when we don't have the resources we need to fix problems in house, such as if there's a tweak or something's not working quite right. We can put in a ticket and someone from the office will work with us to resolve the problem."
Select an LMS that's Built for Small Teams and Large User Bases
Not all LMS software is appropriate for small teams. Some options are highly customizable, but come with a high administrative burden. Others stand out in user experience but come with a hefty price tag. Small teams should take their business needs and goals into account before looking for an LMS, ensuring they evaluate price, UX, support, and features before making a purchase.

With the right learning management system and high-quality eLearning content, your organization can reach thousands of learners, no matter how limited human resources are.
---
References:

1. Inkling. Infographic -- Top three challenges L&D teams face in 2018. https://www.inkling.com/blog/2018/03/top-3-challenges-ld-teams-in-2018/.

2. eLearning Industry. How to dramatically reduce corporate training costs. https://elearningindustry.com/dramatically-reduce-corporate-training-costs.