Healthcare organizations have to deal with federal regulations and compliance standards that are constantly changing. In the U.S., healthcare providers spend $39 billion yearly on the administrative aspects of regulatory compliance, per the American Hospital Association.¹
The regulatory burden doesn't just affect health systems. A contributor to the AHA wrote, "Patients also are affected through less time with their caregivers, unnecessary hurdles to receiving care and a growing regulatory morass that fuels higher health care costs."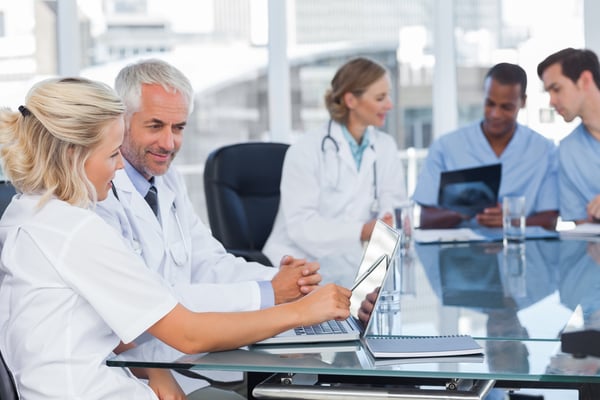 3 Ways Healthcare Organizations Can Better Keep Up with Changing Compliance Standards and Healthcare Regulations
Staying up to date with regulatory requirements is an extensive effort. Healthcare organizations can improve the process with the following tips:

1. Establish written guidelines that can be easily updated -- It is the responsibility of some health systems to make an effort to "identify potential regulatory risks before they occur, detect suspected or actual violations when they occur, and to prevent similar violations from occurring in the future," according to HC Pro.² By establishing written guidelines for staying updated with regulatory requirements, healthcare organizations clearly demonstrate that they are attending to these issues.

Fortunately, many healthcare organizations already have written guidelines, but fewer have guidelines that are easily updated, accessed, and distributed to staff. To improve those aspects, it's often helpful to store written guidelines in an online location, such as a healthcare LMS. A learning management system gives administrators constant access the written guidelines via mobile device and facilitates easy and instantaneous updates. To balance access with security, you can allow guidelines to be viewed by everyone in your organization, but only updated by certain personnel.

2. Adjust internal procedures by updating training -- As regulatory changes are made, your organization changes internal procedures to stay compliant. But not every change requires a full process overhaul. A contributor to LinkedIn suggested the following for those trying to keep up with regulatory requirements:
"Check your internal procedures and think of ways...to introduce the new requirements into the existing procedures."³
One way to introduce new requirements into established procedures is to update healthcare training. It can be helpful for a compliance officer to team up with an LMS administrator to update existing processes as regulatory changes are made. Compliance training and learning paths can then be updated to reflect those changes. If updates are made regularly, it will be easier for your organization to maintain current training without increasing your workload by overhauling courses when they're severely out of date.

3. Reach out to your collections partner often -- Healthcare organizations must stay on top of regulatory changes not only to ensure they provide quality care to patients, but also to avoid penalties and reduce others financial burdens related to these changes. A collections partner can be an invaluable resource for staying in the know about regulatory changes.

"The best partners will not only be able to inform you if legislation has passed or an agency has changed regulations, but also be able to keep you abreast of trends and potential future developments. Forewarned is forearmed, especially in the world of accounts receivable where compliance is central to avoiding penalties and fines," wrote John Owen, the Director of Client Development at DECA Financial Services.4

Maintaining a strong relationship with your collections partner will help ensure that your organization stays current with compliance standards and healthcare regulations and keeps associated costs low.
Promote Compliance with a Healthcare LMS
No healthcare organization is exempt from the complicated, ongoing endeavor of keeping up with regulatory changes. Tools like a healthcare LMS and processes that include regular documentation can help ease the burden.
---
References:

1. American Hospital Association. Regulatory overload. https://www.aha.org/system/files/2018-02/regulatory-overload-report.pdf.

2. HC Pro. Note from the instructor: general guidelines for keeping up to date with changing regulatory requirements. http://www.hcpro.com/CCP-320207-5091/Note-from-the-instructor-General-guidelines-for-keeping-up-to-date-with-changing-regulatory-requirements.html.

3. LinkedIn. Practical tips on how to keep up with regulatory changes. https://www.linkedin.com/pulse/practical-tips-how-keep-up-regulatory-changes-ina-kroi-ll-m-.

4. Inside Arm. The easiest way to keep track of healthcare regulations. https://www.insidearm.com/news/00016439-the-easiest-way-to-keep-track-of-healthca/.