TOPYX social learning management system (LMS)was voted the 2012 Best of Elearning! "Best Social Learning Solution," beating Microsoft's Yammer. That award marked the fourth consecutive Best of Elearning! award win for TOPYX.
This achievement was recognized by Rick Scott, Florida Governor in a letter that we have included below: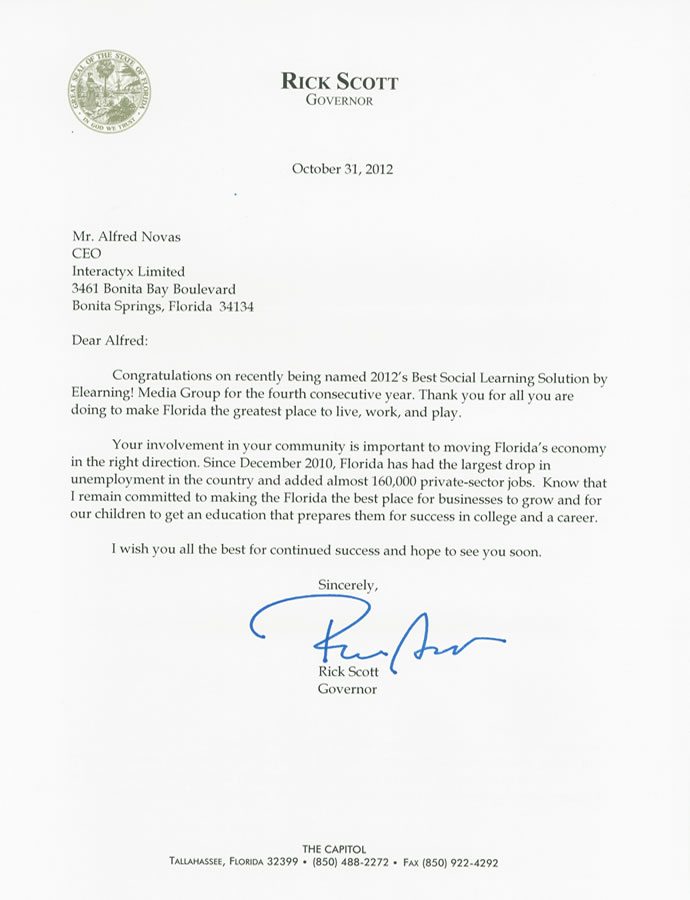 "To be a winner for a fourth consecutive year of Elearning! Media Group's admired annual award reflects our team's commitment to creating one of the best social learning management platforms available," stated Alfred R. Novas, Chief Executive Officer of Interactyx Limited. "Social learning continues to prove its effectiveness in leading organization throughout the world. TOPYX allows organizations of all sizes to easily and cost effectively brings a social learning management system into their enterprise. Thank you Governor Rick Scott for your letter and your personal attention to this achievement. We are proud to keep Florida as the home of Interactyx Limited."
Other recent awards include: Southwest Florida Regional Technology Partnership chose TOPYX as the winner of the fourth annual technology awards for innovation,Brandon Hall Group's acknowledgment of multi-gold medal awards winner for Excellence in Technology and named by Chief Learning Officer magazine one of the top LMSs to watch.
Thank you, Gov. Rick Scott, for your recognition!