Seventy-seven percent of companies describe their relationship with technology and digital transformation as average or above average, whereas the other 23 percent are slow adopters, according to Technology Insights for Business Leaders.1 Since digital transformation is key to increasing employee effectiveness, cybersecurity, and user experience, it's important to know where your company falls on this scale and why it should prioritize digital transformation.2
What is Digital Transformation and Why Should You Prioritize It?
Digital transformation can be defined as "the integration of digital technology into all areas of a business, fundamentally changing how it operates and delivers value to customers," wrote a contributor to The Enterprisers Project.3 That could mean adopting a new CRM that allows you to better track and personalize your customer experience, or improving employees' product knowledge to improve customer service with a learning management system (LMS).
Regardless of how you begin, corporations that are not actively modernizing and adopting new technologies will quickly fall behind competitors. Digital transformation prevents this and helps companies reach their business goals.
"Digital transformation is business transformation," stated an article on CIO.4 "Some prefer to use the term 'digital business transformation', which is more in line with the business aspect of the transformation.
There are many strategies for promoting digital transformation that lead to improved business performance and competitive advantage. An online learning platform helps companies promote transformation from the inside out - through employee training.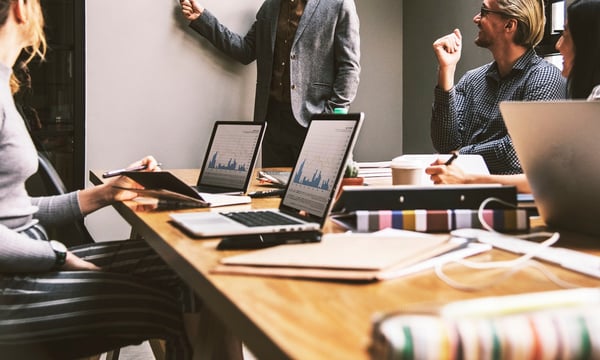 3 Ways an Online Learning Platform Supports Digital Transformation
Here are a few ways training delivered with an online learning platform supports digital transformation:
1) It imparts digital skills -- Acquisition of digital skills precedes digital transformation and helps sustain it. An online learning platform can deliver the technical skills employees need to promote such a big change.
Employee training with an online learning platform is agile and efficient, which are two key characteristics of digital transformation itself. An online learning platform can be used to distribute on-demand, mobile learning, as well as eLearning courses that are more in-depth. Learning paths ensure individual learners are fully grasping the digital skills being taught.
Start by using your online learning platform as a general training tool for essential business information, such as onboarding and mission statements. Then, add content as you continue your digital transformation. For example, as you adopt and leverage new technology, such as a CRM or CMS, you can train employees on the new system using your online learning platform.
Many digitally transformed companies have moved beyond providing lengthy in-person training sessions. They know such training is inefficient and disengaging. Online learning is a more effective option for facilitating digital transformation.
2) It can be easily altered -- Technology is constantly evolving, therefore companies should offer training that can be updated quickly to incorporate new technology, company policies, or goals.
Digitally transformed companies offer L&D programs that are fluid. This isn't trendy -- it is essential. An online learning platform is equipped with customization tools that allow learning programs to be constantly reshaped depending on what learners need at the moment.
An eLearning system also allows companies to tailor training based on where they're at in their digital transformation. It can suit the needs of a company that is either beginning to embrace digital transformation or is well on its way to this destination, with the system evolving alongside your needs and digital maturity.
3) It is efficient-- Operational efficiency is a major goal of digital transformation,5 and training is a vital aspect of business operations. Training can be made more efficient when it is included in an employee's regular workflow. An online learning platform makes this possible by supporting experiential learning.
Experiential learning incorporates more than just desk learning. For instance, online learning can happen at a workplace computer or at home or on-the-job. On-the-job learning is often based on experiences, giving rise to the term "experiential learning".
For example, an online learning platform gives employees quick access to training resources they may need during the workday via mobile device. Also, administrators can design eLearning courses around an employee's daily work tasks, which reinforces learning through experiences while making it more efficient.
How Are You Supporting Digital Transformation Initiatives?
Your company might be digitized, but that doesn't mean it is digitally transformed. Digitized companies often use technology in their workflows or to more efficiently store information, while digitally transformed companies leverage technology for specific business goals to improve performance and differentiate their brand in the market.
If you're getting left behind technologically or out-performed by competitors, facilitating digital transformation with an online learning platform training is a must. Online learning platforms make it easy for you to not only train employees, but impart digital skills and teach staff to use technology strategically, to make a measurable business impact.
---
References:
1. Technology Insights for Business Leaders. 15 Key Stats from the 2018 Digital Transformation Index. https://futurumresearch.com/key-stats-2018-digital-transformation-index/.
2. IT Pro. Three reasons why digital transformation is essential for business growth. https://www.itpro.co.uk/strategy/29899/three-reasons-why-digital-transformation-is-essential-for-business-growth.
3. The Enterprisers Project. What is digital transformation? https://enterprisersproject.com/what-is-digital-transformation.
4. CIO. Digital transformation: why it's important to your organization. https://www.cio.com/article/3063620/it-strategy/digital-transformation-why-its-important-to-your-organization.html.
5. Century Link. Will digital transformation bring you efficiency? Enterprises sure hope so. http://www.centurylink.com/business/enterprise/blog/thinkgig/will-digital-transformation-bring-efficiency-enterprises-sure-hope-2/.