Enterprise learning management systems (LMS) are designed to provide business benefits that improve performance –reducing costs, improving efficiency, and increasing learner engagement.
Beyond those core improvements, however, one of the main benefits that an enterprise LMS can provide is the ability to reduce administrative effort and save time. By using an LMS, training and development managers, employees, supervisors and executives throughout the organization can reduce the manual, time-consuming administrative tasks they need to perform on a daily, weekly, or monthly basis.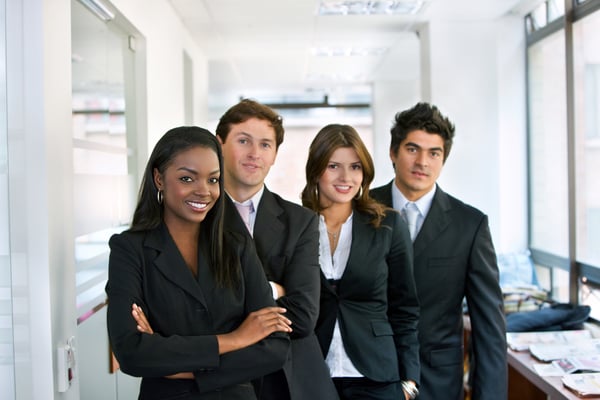 Using an LMS as a tool for using resources efficiently, saving time and effort, means that companies and their employees can direct efforts toward higher-level activities, improving processes, focusing on customer service, and achieving strategic goals.

Some features of enterprise LMS system that provide business value by helping companies to save time, and reduce administrative effort include:
1. Learning Paths
LMS systems often feature learning paths, which allow an organization to set a clear progression for employees to follow based on their position within the company. Learning paths may include onboarding, certification and regulatory requirements, or professional development along a career path.

Learning paths help a company to save time because courses do not need to be delivered manually, nor do progressions need to be set for each individual employee. They also make it easy for employees to retake courses when they need a refresh, and for administrative staff to update and repurpose content for similar roles.

2. Automation
An enterprise LMS applies automation to different areas of organizational learning. First, learning paths can be set for different categories of employees, whose progression from one course to the next can be facilitated by the system without intervention. Communication, including course updates and reminders, can be sent at regularly scheduled intervals by the LMS, as can knowledge checks and updates.

Learning management systems may also include the automatic addition of new users, reducing the administrative burden associated with onboarding employees. Automated reporting can entirely eliminate an essential, but tedious and low-value manual task, which not only increases efficiency but will likely also improve job satisfaction.
3. Integrations
Many enterprise LMS systems offer integrations with software used throughout the business, including top CRMs, communication applications, human resources management software, and more.

While connections between different systems will function differently, each integration fulfills a specific purpose, such as providing data transfer between systems. Like automatically adding users, this helps reduce the number of time-consuming manual tasks your LMS administrators need to do on a regular basis.

Integrations may also include technical features that improve system usability such as single sign-on, or SSO, so that the LMS does not require a separate login by employees; and various APIs that connect the LMS to other applications, improving overall system usability.
4. Content Partnerships
One of the most time-consuming elements of LMS administration is creating content and courses. While every enterprise learning management system will require content, not all systems require businesses to create their own material.

An LMS that is content-agnostic may support content from the LMS provider and partners, as well as from third-party organizations or custom training content created by the organization. This gives the company a wide variety of sources to meet all organizational learning needs, and saves the time and effort associated with course creation and integration into a hostile system.
5. Intuitive Interface
An intuitive interface reduces administration in a variety of ways. With a user-friendly LMS, administrators can make changes to content, learning paths and more without deep technical knowledge. Because there's no coding required, administrators don't need to contact the LMS provider or their IT teams for help, which can save hours, days, or even weeks.

Intuitive interfaces also benefit learners. Easy-to-use systems allow learners to access content without additional training on how to use the system. They can then complete courses easily, without system limitations or frustrations that lower engagement.

Evaluate Enterprise LMS Systems Based on Your Administrative and Training Goals
More and more, organizations are turning to enterprise learning management systems to support and deliver training and development in all areas of the business. Research and Markets recently estimated that the global e-learning market would grow to $325 billion by 2025 – more than tripling 2015 results. This growth can be linked to the numerous advantages of an LMS over traditional training – greater efficiency, reduced costs, and improved user engagement, as well as saving time and reducing the administrative burden on employees.

When considering adopting or updating an enterprise LMS system, it is important to consider the key advantages of a system for your organization. Make sure you review each vendor's LMS overview to determine which features are available and ensure that the LMS you select has the features that your company requires.


---
Resources:
¹ https://www.forbes.com/sites/tjmccue/2018/07/31/e-learning-climbing-to-325-billion-by-2025-uf-canvas-absorb-schoology-moodle/#271ee4b03b39