It takes the average employee 5 to 6 months to become fully productive.¹ This can end up costing large businesses a lot of money in lost productivity. By speeding up time to productivity for new hires, large businesses with a thousand or more employees can create a healthier bottom line as well as a more competent workforce.
Tips for Accelerating Productivity for New Employees
Large companies often hire new employees consistently. Filling call center positions, filling empty positions, and adding employees as the brand grows happens on an ongoing basis. But a high number of employees and consistent hires, also means large companies regularly deal with new staff that aren't yet productive, which makes the entire organization less efficient.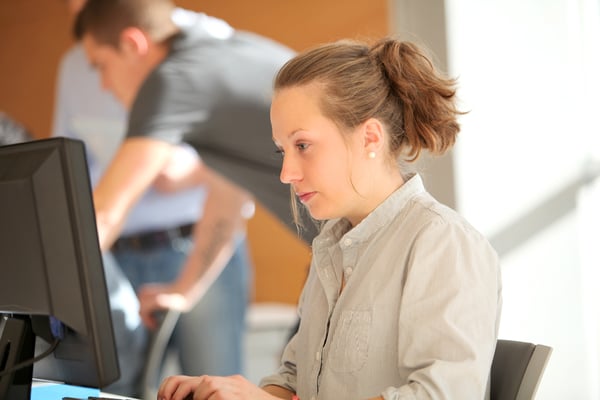 The three tips below are overarching changes that large companies can make to better onboard new hires, helping them become more productive in less time.
1. Eliminate organizational drag -- Outdated structures, processes, and practices that eat up employees' time and drain their energy are referred to as "organizational drag" by the Harvard Business Review.2 A contributor wrote,

"...the average company loses more than 20 percent of its productive capacity - more than a day each week - to what we call 'organizational drag', the structures and processes that consume valuable time and prevent people from getting things done."

To get rid of organizational drag and help new hires start out on the right foot, the HRB recommended that organizational leaders:
Simplify their company's structure by aligning their model of operation with the true sources of value in their organization.
Fight bureaucracy and create processes that enable employees to devote their time to delivering for customers and shareholders.
By reducing or eliminating organizational drag from day one, big brands can optimize onboarding and reduce time to productivity for new hires.

2. Provide virtual tours of workspaces -- Providing tours to each and every new employee might not take much time away from a smaller business, but it can for a big brand that onboards a high number of new employees every month. Businesses can free up time that could be spent getting new hires up to speed by allowing virtual tools to familiarize employees with their workspaces days before they set foot in an office.

"Imagine providing your new hire with a Google Cardboard VR viewer and a mobile app that takes them on a virtual reality tour through the company and their work environment," stated Digitalist Magazine.³ "They can take the self-paced tour at any time before their first day, from anywhere. The tour can include videos with welcome messages from management and peers or initial training sessions, and can even be gamified to make it even more engaging."

To determine whether or not Virtual Reality tools would offset the cost of productivity lost to live tours, track how much time is spent on in-person tours over the course of several months. If the number is considerable, VR tools could be a wise investment.
3. Onboard with an LMS -- Simply having a standard onboarding process, which most large companies do, reduces time to productivity for new hires and increases their productivity by 50 percent.4 LMS software can make your employee onboarding program more effective and your new hires' time to contribution even shorter.

One reason why an eLearning system can decrease time to productivity is because any data stored in it can be updated instantly, providing new hires with the most relevant training resources. This ensures they won't have to unlearn outdated procedures and policies picked up early on in the onboarding process.

Also, a learning management system lets new employees learn at their own pace. "Rather than giving new hires mountains of (onboarding) information to memorize, show them how...to find the information they need, and then let them absorb that information on their own time," stated SHRM.5 Paradoxically, this may get them contributing to the company more quickly than pushing an inflexible onboarding program would.

For companies that already use an LMS, consider reviewing the efficacy of your system. Is it easy to update content to contain the most recent processes, or does your HR or L&D team spend too much time making changes? The best LMS software will make it easy for you to update content and maintain an effective new hire onboarding process that consistently improves time to productivity.
How Does Your Company Reduce Time to Productivity for New Employees?
According to the Harvard Business Review, great companies "obsess over productivity."6 By striving to reduce time to productivity for new hires, big brands will increase revenue and ultimately retain more employees. If your current LMS doesn't exceed your expectations, it may be time to compare against other options. Here's a worksheet that can help you do just that - Download the LMS Comparison Tool and find an LMS that fits within your budget, goals, and needed features.
---
References:

1. ACGS. Measure onboarding effectiveness with employee time-to-productivity. https://www.cgsinc.com/blog/measure-onboarding-effectiveness-with-employee-time-to-productivity.

2, 6. Harvard Business Review. Great companies obsess over productivity, not efficiency. https://hbr.org/2017/03/great-companies-obsess-over-productivity-not-efficiency.

3. Digitalist Magazine. Digital onboarding: happier hires, greater productivity. https://www.digitalistmag.com/future-of-work/2018/01/25/digital-onboarding-happier-hires-greater-productivity-05790042.

4. Atrivity. How to shorten time to productivity with 90+day onboarding. https://blog.atrivity.com/how-to-shorten-new-hire-time-to-productivity-with-90day-onboarding.

5. SHRM. Don't underestimate the importance of good onboarding. https://www.shrm.org/resourcesandtools/hr-topics/talent-acquisition/pages/dont-underestimate-the-importance-of-effective-onboarding.aspx.