Many nonprofits choose an online learning platform when seeking a training solution. A flat-fee LMS can provide cost-effective training for an organization's members, staff, and volunteers, but its benefits don't stop there.
A nonprofit LMS also helps organizational leaders unify geographically separated membership and boost the effectiveness of the training tools that are already being offered. Additionally, an eLearning system can promote member engagement.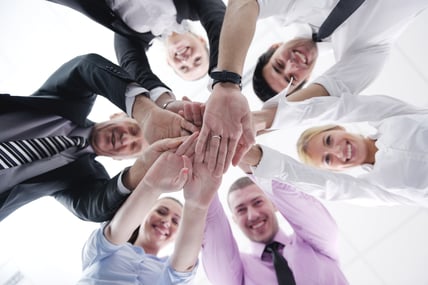 How a Nonprofit LMS Drives Member Engagement
Members are extremely valuable to a nonprofit. Here are a few ways your LMS can meet the needs of your members and promote engagement:
1. An LMS offers mobile learning functionality
People want to feel engaged with whatever is important to them. When engagement is high, so is satisfaction and productivity. For example, students are happier and perform better when they are engaged with their schoolwork. The same goes for employees who are engaged with their jobs and members who are engaged with the nonprofits they belong to.
Implementing mobile learning is a quick way to drive member engagement. Here's why: the average person touches the screen of their smartphone 2,600 times per day.1 Also, people complete course material 45 percent more quickly on a smartphone than on a computer and 70 percent of individuals feel more motivated when learning on a mobile device.2
Related Reading: Why Associations and Nonprofits are Turning to eLearning
2. An LMS ensures your member engagement strategy is understood and implemented
One reason why nonprofits may experience low member engagement is that not everyone on staff is up to speed with the member engagement strategy. Or if they are, they may not know how exactly to implement it.
Nonprofit administrators can use their learning platform to remedy this problem by creating a simple training course that covers the basics of the organization's member engagement strategy. Practical tips on how to put the strategy into practice can also be included. Once the course has been created, staff can access it on a PC or mobile device and administrators can track learner progress using LMS reporting.
3. An LMS keeps members updated about their training progress
Many nonprofits offer member training as a way to increase non-dues income and better engage their members. When training is offered through an LMS, members can stay updated on their progress, which can further increase engagement.
To drive member engagement, administrators can design LMS user portals to allow learners to see when each eLearning segment is completed. While LMS dashboards are most effective when they are not crowded, a visual reminder of training progress can be helpful and engaging to learners. It will not only cause members to feel more accomplished, but it could also encourage continued participation in training.
Are Your Members Engaged with Your Organization?
For nonprofits, member engagement isn't just important to internal teams, it's also important to the organization's members. The more engaged a member is with the nonprofit, the happier they will be to be part of it and the more likely they will renew membership and help drive the nonprofit's core mission.
An LMS can positively impact not only your members but also your volunteers. Schedule a personalized demo of the TOPXY platform to see how the right LMS platform can change how nonprofts engage members and grow revenue.
---
References
https://blog.dscout.com/mobile-touches
https://elearning.adobe.com/2018/05/10-mobile-learning-trends-2018/