For a tech company, offering formal employee onboarding is part of gaining an advantage in a highly competitive industry. "Sixty-seven percent of high-performing companies have a structured new-hire onboarding process," stated a contributor to Inc.com.¹ This source mentioned that technology companies such as Google, LinkedIn, and Twitter have all mastered onboarding, and their success is obvious.
A successful onboarding program is one of the reasons tech companies like Google have been so successful for so long. But what's the recipe for a great employee onboarding program in the tech industry, which is changing so quickly that programs might need to be updated quarterly, if not even more frequently?

There's no magic formula, and no tech employee onboarding should be one-size-fits-all, but there are elements of a great onboarding program that will improve performance across the board. Sales training is one of them. By including sales training in employee onboarding programs for technology staff across all departments, you will drive revenue, customer retention, and a better bottom line.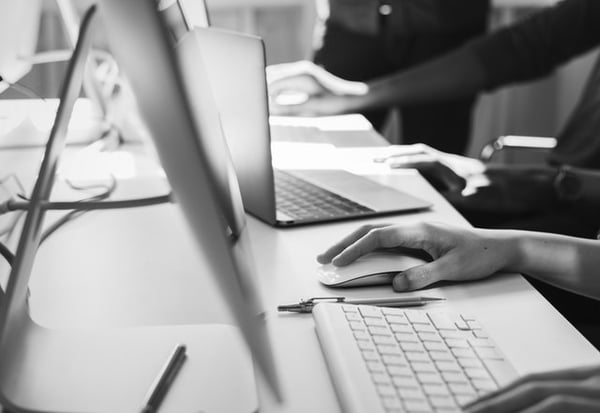 3 Reasons Tech Companies Should Add Sales Training to Onboarding Programs
Sales training can be a very helpful aspect of tech employee onboarding. Here are three reasons to include it:

1. Sales training synchronizes sales and marketing -- The synchronization of sales and marketing (often called "smarketing") can make a huge improvement to a tech company's bottom line. Providing sales training for employees in marketing could help them better relate to the sales team and connect their initiatives with what the sales team is doing. This results in improved business performance.
"Companies with good smarketing practices in place generated 208% more revenue from marketing efforts," stated Hubspot.²
Sales and marketing alignment can also result in a 36 percent increase in customer retention.3 This is helpful because it can cost up to seven times more to gain a new customer than to hold onto an established one, and tech companies often have higher-than-usual costs of customer acquisition.4

Tech companies that have trouble closing deals may find synchronizing sales and marketing via providing marketing staff with sales training especially beneficial. "When sales and marketing teams are in sync, companies became 67 percent better at closing deals," according to the TAS Group.5

2. Sales training increases upsells and cross-sells -- Training customer service representatives for sales could increase upsells and cross-sells during service calls. This would result in increased revenue and better company performance.

The probability of selling to an existing customer is 60-70 percent, but it is just 5-20 percent for a new customer.6 Armed with ample product knowledge gleaned from sales training, customer service reps can more effectively suggest new or upgraded products to established customers. This would promote cross-selling and upselling and improve a company's bottom line.

Sales training not only provides customer service representatives with knowledge of products, but also with an understanding of best practices for closing sales. It adds to the set of soft skills they already possess.

Tech company customer service representatives are in communication with customers all day long. This means they have constant opportunities to build rapport with customers while increasing company revenue. Ensure customer service reps have the skills they need to take advantage of these opportunities by offering them sales training.

3. Sales training increases the confidence of new hires -- Whether a new employee is a sales team member, web developer, social media manager, or product developer, he or she will benefit from sales training. Sales training helps increase tech employees' confidence by familiarizing them with all of a company's products. This is necessary for becoming a well-rounded employee working in any department.

Employees who are confident in their knowledge of products add value to tech companies. "Confident employees want to come to work, they are less likely to quit, and they project a positive image of your company in the wider community," stated a contributor to Keen Alignment.7 "The more confidence an individual possesses, the more efficient and productive they are in meeting their goals."

As new hires become more confident in their knowledge of your company's products, they will most likely develop confidence in the other skills they learn during onboarding as well.
Sales Training Adds Value to Every Tech Employee's Onboarding Experience
If you are only including sales training in onboarding programs for new sales team members, you are missing an opportunity to increase every new tech employee's soft skills, confidence, knowledge of products, and ability to communicate well with customers and coworkers. Integrate sales training into all tech employee onboarding programs using a learning management system.
---
References:

1. Inc.com. Twitter, LinkedIn, and Google have mastered employee onboarding, and you can too. Here's how. https://www.inc.com/adam-robinson/twitter-linkedin-google-have-mastered-employee-onboarding-you-can-too-heres-how.html.

2, 5. Hubspot. 20 stats that prove the power of sales and marketing synchronization. https://blog.hubspot.com/sales/stats-that-prove-the-power-of-smarketing-slideshare.

3. Ledgeview Partners. 10 stats that prove sales and marketing alignment is critical. https://ledgeviewpartners.com/blog/10-stats-prove-sales-marketing-alignment-critical/.

4. Kuno Creative. How tech companies can reduce churn by improving customer retention. https://www.kunocreative.com/blog/tech-companies-churn-rates.

6. Biz Library. How to improve sales with cross-selling and upselling. https://www.bizlibrary.com/weekly-video-highlight/improve-cross-selling-and-upselling/.

7. Keen Alignment. Confident employees are successful employees. https://www.keenalignment.com/confident-employees-are-successful-employees/.