The best LMS vendors help businesses increase organizational competencies.
TOPYX LMS is an eLearning platform that brings the best interactive software together into a single platform with the learner in mind. It's easy-to-use, efficient and engaging.
TOPYX's all-in-one feature-rich application delivers much more to support the needs of a learner than a traditional Learning Management System when compared to LMS Vendors.
TOPYX has been recognized as having award-winning LMS features by prestigious organizations, including Gartner, Brandon Hall Group, Capterra, CLO Magazine and Inc. Magazine.
TOPYX's comprehensive feature set includes: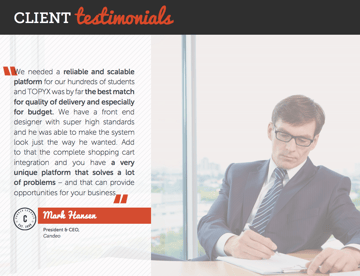 TOPYX is trusted by a variety of businesses, both domestically and internationally, to support training, collaboration and communication goals with full-featured business LMS software.
Learn more about the Benefits of TOPYX LMS