Deliver & render the languages you need for your users.
The right LMS can enable you to speak your user's language. TOPYX® can accommodate any left-to-right or up-and-down languages and offers the ability to toggle between languages with an easy drop-down menu.
With TOPYX, you can easily set the default to the necessary language for a user or group - that way, your LMS is always available and displays in the correct language for all users.
Here's the current list of available languages (but more can be quickly added as needed):
Chinese (simplified and traditional)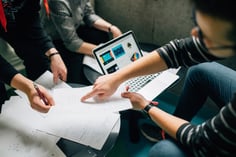 Dutch
English (US and UK)
Finnish
French (France and Canada)
German
Italian
Japanese
Korean
Polish
Portuguese
Russian
Spanish
Swedish
Thai
All language packages are optional.