Learning technologies for businesses can be cost-prohibitive. For example, a learning management system (LMS) can be quite costly, even damaging to a company's bottom line, depending on the pricing model the provider uses. Unfortunately, this can keep organizations from implementing helpful learning technologies like LMSs that allow them to deliver, track, and report on employee training. And without employee training, companies cannot succeed.
The Cost of Not Training Workers
Post-pandemic, employee training is no longer optional. Many companies have lost a lot of money and are in the financial rebuilding phase. Investing in employee training is a vital aspect of financial recovery.
There is an incredibly high cost to not training employees. An article by LinkedIn1 explained,
"Employees that are not trained become disengaged from their jobs because they do not feel that companies care about them. There is $500 billion lost yearly due to disengaged employees and this comes from turnover, rework, and many other costs that most companies don't see on the front end of accounting."
This indicates organizational leaders that don't offer continuous training to workers may think they are saving money, but they are actually losing it. More and more companies are attempting to cut costs after the financial devastation the pandemic caused. But, it's important that employee training doesn't get cut.
What does it cost to skip particular types of training? The HSI Blog2 provided some interesting stats on what it costs companies to skip over various types of employee training, such as:
Soft skills training - $555,174
Sales training - $640,000+
Safety training - $39,780 to $1,190,000+
Productivity training - $4,750,000
Cybersecurity training - $7,220,930 to $14,441,860
Customer service training - $28,000,000
Compliance training - $750,000 to $150,000,000
"Good training does not bring in dollars directly, but it prevents money from going out the window," the article stated. "Even if training your employees is expensive, the cost of not training your employees will be even higher."
To train employees, modern companies must use learning technology. This is because most organizations have workforces that are at least partially dispersed. Many employees are still working from home and will remain so for the foreseeable future. By implementing corporate learning tech, such as an LMS, these companies can effectively train their entire workforce.
Offer Employees On-Demand, Remote Training With an LMS
There are multiple learning technologies your organization could use to deliver training remotely to employees. Online learning platforms are tried-and-true technologies that help companies overcome barriers to training employees. It's crucial to be aware of LMS pricing models, though, before choosing a system.
An LMS is the ideal tool for training workers post-pandemic. Here's why:
1) An LMS makes training accessible anywhere, anytime - Because an LMS has built-in mobile learning functionality, learners can access training on-demand and from any location.
Mobile learning gives users the flexibility to learn at their own pace and on their own schedule. Plus, it doesn't financially burden a company as no added hardware or connectivity charges are needed since most employees already own smartphones or tablets.
Increased productivity is another benefit of mobile, on-demand training. Mobile learning provides flexibility and freedom outside of office hours. This gives employees the ability to increase productivity in other areas of their work.
Those working from home will especially appreciate the option to engage in training from any place at any time.
2) An LMS has reporting capabilities - Without the ability to report on training, learning and development initiatives can fall apart. An LMS is a great tool for training on the corporate level because of LMS reporting features.
Reporting benefits organizations first and foremost by allowing instructors, managers, and executives to access reports from the learning management system quickly and efficiently. With TOPYX LMS, administrators can easily navigate reports in their intuitive and customizable dashboard. The dashboard provides a comprehensive overview of key performance indicators, helpful for executives and management teams to track learner progress.
Request a free LMS demo of TOPYX to get more information about how LMS reporting can make employee training easier for your organization.
Reporting tools also benefit learners by giving them access to report cards, competencies, and transcripts. Full-featured LMSs have reporting capabilities. Thankfully, it's possible to find flat-rate LMS pricing models for systems that are full-featured, such as TOPYX.
3) An LMS causes learners to collaborate - Post-pandemic, many workers, especially those that work and learn from home, are experiencing feelings of isolation. Disconnected from their coworkers, they can easily become disengaged with both their employers and learning and development. LMS social learning tools can help.
Social learning tools like online communities, learner forums, email, real-time chat, and web conferencing encourage learners to become more engaged. Companies can leverage LMS social learning tools to accelerate content curation and knowledge sharing, enhance productivity for remote teams, and create sustainable learning communities.
Other LMS features, such as certifications management, microlearning, learning paths, blended learning, and LMS integrations make delivering employee training simple.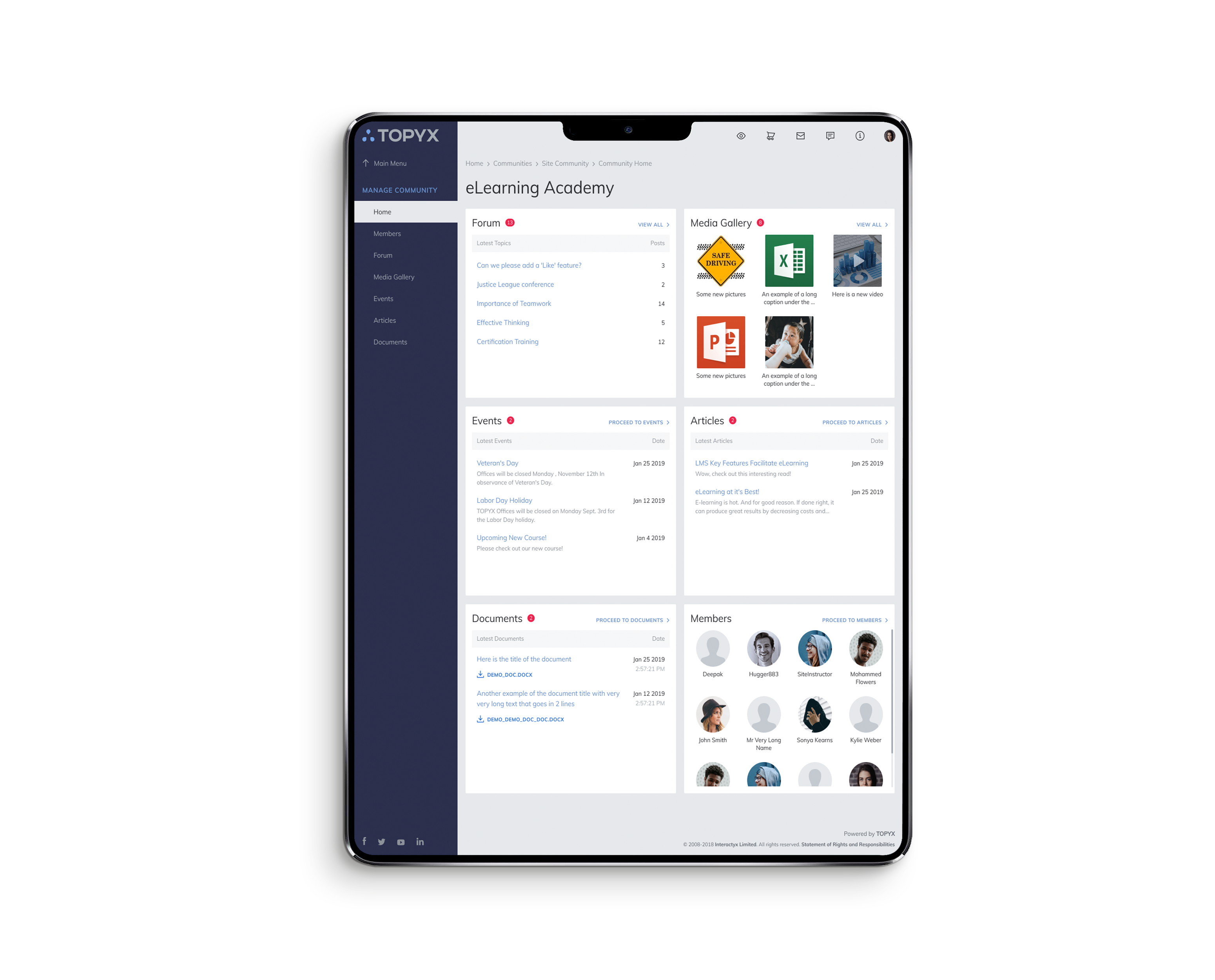 Evaluating LMS Pricing Models
When selecting a learning management system, customers find that different providers subscribe to several different LMS pricing models. Some charge per-learner, per-use, or for a limited time or perpetual licensing fee. Some of the basic LMS pricing models include:
Pay-per-learner
Pay-per-use
Pay-per-course
Licensing fee
Hidden fee
Pay-Per-Learner
In this self-descriptive LMS pricing model, a company pays a set price for the number of users that register on the LMS. A pay-per-learner system is generally cloud-based, meaning that no software downloads are required, and access is device-agnostic, available through any internet connection.
Pay-Per-Use
This LMS pricing option allows buyers to opt out of features not in use, like courses or tools. With a cloud-based solution, companies usually only pay for modules, accounts, or classes (or a combination thereof) that are actually in use.
Pay-Per-Course
For compliance, audit, or certification-based training, some LMS vendors offer a pay-per-course LMS pricing model. While this model has elements of pay-per-learner, look out for additional premiums linked to specialized content.
Licensing-Fee Model
LMS vendors that charge a licensing fee, rather than a user fee, use fee, or course fee, offer access to all available content, models, and tools for an unlimited number of users. This LMS pricing model includes a set annual fee.
While different LMS pricing models are appropriate for different organizational needs, buyers must be aware of hidden costs sometimes tied to each model.
Hidden-Cost Model
There are some LMS pricing models that include hidden costs that can be disastrous for a company's bottom line. Just a few of these hidden costs are:
Implementation and setup fees - While the fees associated with setting up the LMS platform and integrating it with existing business networks should be set out at the start, it is important not to overlook these fees during the selection process.
Re-licensing fees - Some vendors give a limited license to access their LMS, then charge a recurring fee to continue access. Make sure to include this recurring fee when creating a budget for ongoing LMS expenses.
Upgrade fees - It is crucial to ensure that your learning management system is scalable to accommodate business growth. Should your LMS provider have a limit on the number of users that can use the system under the plan, you should be able to upgrade to the next level without additional upgrade fees. However, if upgrade fees are a part of the pricing plan, it is important to have them set out ahead of time for planning purposes.
Maintenance and support fees - If your LMS provider is required to complete updates and data migration and deal with any bugs in the system, they may charge additional fees for maintenance. Also, resources such as training, online guides, and on-call support may carry additional charges as well.
While per-learner or per-course LMS pricing models may seem like the lowest-cost options, it is important to note that careful planning is required to ensure that all potential fees are covered at the outset. However, unforeseen changes in organizational circumstances may lead to fees that are impossible to prepare for.
An LMS that costs a flat annual fee may be the correct choice for your organization. With a provider such as TOPYX, there are no hidden costs and no surprises. For a flat fee, TOPYX customers have access to unlimited users, data, and administrators. Because of this, the solution is fully scalable for current and future needs, growing with the company as needed.
Implementation and support, customization, mobile and social learning, advanced reporting, and integrations are all available to all TOPYX users, always.
Learn more about TOPYX's flat-fee pricing model.
TOPYX LMS is a Flat-Rate eLearning Platform That Saves You Money
An LMS with a flat-fee pricing model could be your organization's best choice of corporate learning tech. TOPYX LMS is a flat-rate, full-featured LMS used by organizations like The General, Le Creuset, Sirius XM and more. With TOPYX, you can save money and prevent the financial losses that come with a lack of employee training.
To learn more about TOPYX, request a free LMS demo.
References:
1) LinkedIn. https://www.linkedin.com/pulse/what-cost-training-all-employees-jason-haines/.
2) HSI Blog. https://hsi.com/blog/the-real-cost-of-not-training-your-employees.