With the global move toward digital shopping, all retail companies need key tech systems in place and functioning together. Without these systems, it is difficult for retail companies to gain a competitive advantage and become industry leaders.
3 Types of Business Technology Retail Companies Can't Do Without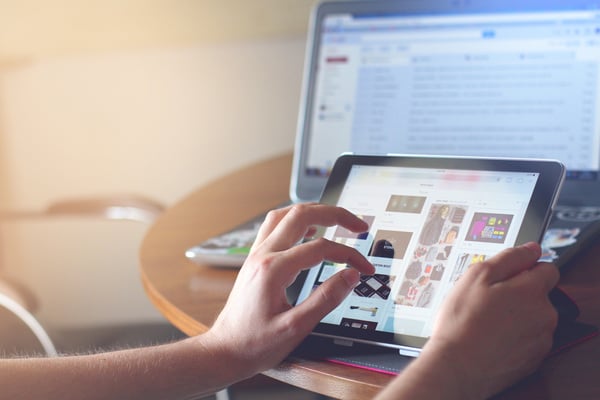 Whether your retail company operates on a regional or national level, you need to bring employees, customers, and data together to enable both in-person and eCommerce experiences for customers. These three business platforms will help you create a unified strategy that enables growth in a digital world.
1. An AI solution -- AI is becoming a must for retail companies. According to NVIDIA2, Artificial Intelligence benefits retail companies by:
Optimizing supply chains

Using existing data to increase conversion

Customizing shopping experiences with predictive modeling and micro-targeting/pricing
In fact, in 2018, 45 percent of U.S. retailers planned to use AI in the next three years, per RIS News1. The source also stated,
"AI has brought positive disruption to the retail sector by improving efficiency and it is predicted that by 2020, 85 percent of customer interactions will be managed by AI."
AI is being used in both brick-and-mortar retail stores as well as in eCommerce to improve the customer experience and increase sales. Retail companies that are interested in investing in AI might consider a solution such as IBM Watson Cognitive Computing technology. It collects and stores consumers' shopping habits, giving retailers critical information for increasing sales by up to 70 percent3. Other AI solutions can also be highly effective depending upon your company's needs.
2. An LMS -- A learning management system is one of the most important tech systems retail companies can invest in. This is because the primary purpose of an LMS is to provide retail training to staff, helping employees increase retail sales.
A study conducted by University of Pennsylvania professor Marshall Fisher indicated that "educated and engaged store associates who could meet consumers' needs—especially knowledge about a specific product—rang up sales that on average brought in 69 percent more money than those who didn't…"4
A learning management system trains both seasonal and permanent retail staff, onboards new hires, and decreases time to productivity.
Another way retail companies can use an LMS is by providing technology and process training to staff members who managed your website and eCommerce business. Ensuring your online sales are conducted properly and orders are fulfilled efficiently can help your business become known for its accessible - both for online orders and in-person purchases.
Interested in migrating to a different learning management system designed to meet the training needs of retail companies? TOPYX LMS is a full-featured eLearning solution that promotes growth, provides training, strengthens brand identity, and reduces employee turnover.
3. A CRM system -- eCommerce may be disrupting the retail industry, but core elements remain the same - especially when it comes to managing customer data. Customer relationship management (CRM) technology has been critical to the success of retail companies for years because of its ability to track data and improve business relationships. According to Salesforce5, a CRM system does this by:
Helping retail companies stay connected to customers

Streamlining processes

Improving profitability

Driving business growth
CRM systems are so valuable to companies that by 2021, CRMs will be the largest area of spending in enterprise software, according to Gartner6.
Unless your business is stuck in the dark ages, you likely already have a CRM. But that doesn't mean you shouldn't reevaluate your current solution. Legacy systems can be powerful, but many are outdated in the world of eCommerce and AI.
Today's modern CRM software is flexible and can integrate with business tools and applications such as surveys, accounting and billing, eCommerce, and in-person sales. To build your business and effectively track data from both online sales and in-person purchases, you need a CRM that bridges the distance between your website and your brick-and-mortar stores.
To improve results even more, look for technology that integrates with your other systems (such as your AI solution). These CRM systems can provide incredibly useful data, helping you predict busy times, which products may be most in demand, and the best promotions to build your business. Popular CRM solutions include those offered by Zoho, Oracle, and Salesforce.
What Important Tech System Is Your Retail Company Missing?
Retail companies must have key tech systems in place to ensure efficient business processes that promote good sales. What tech system(s) is your retail company missing?
For many retail companies, the answer is an AI solution. But if you're still working off an outdated CRM, or even a poor website or eCommerce engine, you may want to consider updating that technology first. The systems used most often will provide the best foundation for innovative new technology like AI that will ultimately help your business gain a competitive edge.
---
Resources:
1. RIS News. AI's role in changing the outlook of the retail industry. https://risnews.com/ais-role-changing-outlook-retail-industry.
2. NVIDIA. Deep learning for retail. https://www.nvidia.com/en-us/deep-learning-ai/industries/retail/.
3. Maropost. Artificial intelligence in the retail industry. https://www.maropost.com/blog/artificial-intelligence-in-the-retail-industry/.
4. CNBC. Experienced sales staff boost retail sales. https://www.cnbc.com/2014/05/21/experienced-sales-staff-boost-retail-sales-study-finds.html.
5. Salesforce. CRM 101: what is a CRM? https://www.salesforce.com/crm/what-is-crm/.
6. Forbes. In Marc Benioff's race to $20 billion, these 4 engines are driving Salesforce's growth. https://www.forbes.com/sites/bobevans1/2017/05/23/in-marc-benioffs-race-to-20-billion-these-4-engines-are-driving-salesforces-growth-cloud-wars/